Title:  Shipped
Series: Until You, Book One
Author: Karrie Roman
Publisher:  NineStar Press
Release Date: June 18, 2018
Heat Level: 3 – Some Sex
Pairing: Male/Male
Length: 69200
Genre: Contemporary, friends to lovers, actors, fandom, ship, beard, slowburn/UST, stalker, attempted murder, family drama
Synopsis
Ryan Lowe has been a lonely nobody all his life. The only time he ever feels the rush of living is when he's acting. Wanting to get as far away from his small town life and alcoholic father as possible, he leaves Australia to pursue a career as an actor in the bright lights of Hollywood, never stopping to consider the fame that might come with it.
Lucas Evers understands fame. He's been a successful actor on the small-screen for years and loves his career. Nothing comes for free though, and the price he's paid for his success is keeping who he is hidden from the world. He married his best friend to keep both of their secrets, and until now, he has been content with the cost of his fame.
When Lucas and Ryan are cast in a new television series based on a wildly popular book series everything changes for them. The show is a worldwide hit and together they have just become the most popular ship on the planet. As they begin to realize it's not just their characters falling in love, the cost of their fame rises. Together they must face stalkers, anxiety, panic attacks, and attempted murder.
Excerpt
Shipped
Karrie Roman © 2018
All Rights Reserved
Prologue
Unknown Aussie could be our new Sam
Out of the half-dozen people in the room, he was the only one who was standing. It didn't matter to him; he needed to stand; it was the only way he knew how to do this and he had to do it well. This was his big chance; he felt it. Actually, it was the first real chance he'd had in months. He called on all of his training—which wasn't much—focused as he'd been taught, and gave it his best shot.
"I didn't do it for me, and I didn't do it for her." He bent down to look into the greenest eyes he'd ever seen. They were so bright—almost electric—and especially in this town, he couldn't even be sure they were real, but they were certainly breathtaking. "I did it for you—always for you," he finished on little more than a whisper.
The amazing green eyes flared with anger, darkening them. Their owner slammed his palm on the table in front of him. "I never asked you to. I never wanted you to—"
"Then what do you want from me?" He raised his voice in anger too.
"I don't want anything from you right now. I gave you a chance, Sam. I begged you and you chose to walk away. I don't know what else there is to talk about."
"Dominic, please. I made a mistake. I never should have listened to Trina, never should have gone with her. I believed it was the right thing to do. I thought it would help. Please…come back. It's dangerous for you out here, alone." He let fear bleed into his plea, hoping he was pulling this off. He kept his gaze on those green eyes, doing his best to block out every other person in the room. He knew any chemistry between them would sell it, and chemistry started with eye contact.
"Is that actual concern for me, Sam, or do you and the rest of the team only need me for my talents?"
"Of course, I'm concerned for you, Dom. I never once said I didn't care."
"And cut." A deep voice broke into the scene, and Ryan immediately relaxed. Acting never came easy to him, though it was this challenge and the rush of performing that attracted him to it. "Good job, both of you. Ryan, as you know, we've already cast Lucas as Dominic and you played off really well against him today as Sam. We'll take a look at your test on the screen to make sure the magic here in the room translates onto film. We should have an answer for you in a few days." Mike Faraday, one of the hottest producers in television these days, was far less intimidating than Ryan had expected. He was a big man, but his face was the complete opposite of a resting bitch face—he seemed to wear a perpetual smile.
"Thank you, Mr. Faraday, for this opportunity." Ryan then turned to Lucas Evers, who still sat at the table from where he'd read his lines. "Thank you, Lucas. I really enjoyed doing the scenes with you." This had been the last of three scenes he'd done with Lucas as part of the final audition, and he'd loved every second of it.
"Likewise, Ryan. Good job." Lucas finally stood and reached to shake Ryan's hand. Ryan had watched Lucas in his old role on Tides for many years, but the man was far better-looking in person and had a presence that, even being new to the industry, Ryan had no doubt was required for mega-stardom. Lucas Evers would one day be a Hollywood idol.
"Oh, Ryan, sorry, but just to make sure"—Ryan turned toward the casting agent with the delightful name of Molly Anne Moskin—"we want to double-check you understand the character of Sam Dawson is gay. Meaning you would be required, at some point, to do romantic scenes with men. We want to be sure it's not a problem for you."
The saying beggars can't be choosers flitted across Ryan's mind, but the simple fact was he didn't care. He had no experience with men, but he'd never ruled them out either. He'd found more than a few attractive from time to time. The truth was, though, he'd been far too busy working to support his acting classes and running around to auditions to care too much about a personal life. So, no, some gay scenes didn't bother him at all.
"Of course, Molly. It's no problem at all." He hastened to reassure her because he'd hate to lose this role over something he thought of as a non-issue.
"Excellent. Well, your look is spot-on: tall, dark, and handsome. And those dark-brown eyes are screaming to be on the screen, and don't get me started on that jawline. Rawrr. So I guess, well…we'll be in contact." Molly Anne reached out and shook his hand.
Ryan made his way around the room, thanking the others present before saying goodbye. He walked out the door and through the maze-like corridors of the enormous studio offices and couldn't help wondering if his life was about to change in extraordinary ways he'd hardly dared to imagine even in his wildest dreams.
Purchase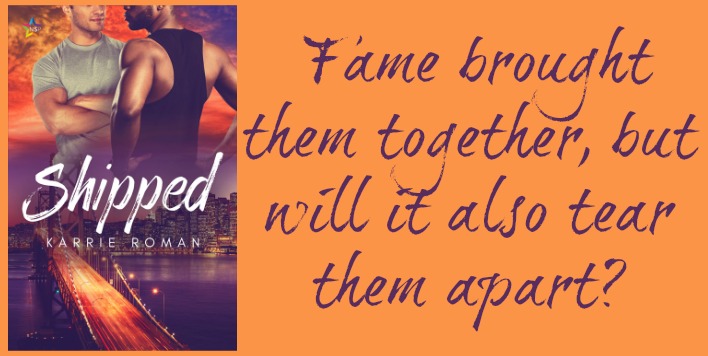 Meet the Author

Karrie lives in Australia's sunshine state with her husband and two sons, though she hates the sun with a passion. She dreams of one day living in the wettest and coldest habitable place she can find. She has been writing stories in her head for years but has finally managed to pull the words out of her head and share them with others. She spends her days trying to type her stories on the computer without disturbing her beloved cat Lu curled up on the keyboard. She probably reads far too much.
Giveaway

Review
Rating: 3 stars
*I received this book for free in exchange for an honest review*
When newcomer Ryan Lowe is cast as one of the leads in a television series he finds himself catapulted from being a nobody into stardom overnight. Struggling with his newfound fame, Ryan relies very much on the support of his co-star, established actor Lucas Evers. As their television characters make the transition from friends to lovers, Ryan begins to realise that he is developing feelings for Lucas. As their on-screen relationship spills over into real life, Ryan suddenly finds himself being drawn into the darker side of fame when he is targeted by a stalker. Together Ryan and Lucas must face the rapidly escalating threats whilst dealing with the pressures of becoming the hottest new couple in Hollywood.
I really like the premise for this novel. An on-screen ship becoming a real life pairing is every fandoms dream, and taking this and making it a reality makes for a really great read. I liked how the negative aspects of their fame was also very prominent; that it wasn't just romance, money and parties. Ryan's increasing anxiety and panic attacks when dealing with being a part of such a high-profile couple were a very realistic portrayal. I was pleased that the author didn't sugar-coat it and addressed how difficult for stars their fame can be. I enjoyed reading the growing relationship between Ryan and Lucas. It was very sweet seeing how much they cared for each other, and how protective Lucas became of Ryan throughout the novel. For me though I did feel that there was not enough chemistry between Ryan and Lucas. They were a cute couple but lacked that spark that made the changing dynamic in their relationship really believable. Also the dialogue in places made me cringe and it sounded very over-the-top as though they were constantly acting in a very bad movie.
Overall I did enjoy reading Shipped. The stalker plot brought some added tension and danger to the romance, and I liked the way the author had included fan comments at the start of each chapter. Shipped is the first book in the Until You series and I am intrigued to see how their relationship develops further in later books in the series.